The first decent song I ever wrote was titled "The Ballad of Pee-wee Herman" (fall of 1991). It was also my first song that ever made it onto a CD (or cassette for that matter) when The Evergreen State College released it on their 1994 compilation: THE EVERGROWING STATE PROBLEM. 
I was a 20-yr-old anti-establishment "punk" when I wrote it and angry at authority figures, conformists, cultural gatekeepers, etc. I really point fingers at parents in this song which I don't love. By "parents" I meant adults. I guess I was just trying to stick up for the kids who'd lost a fun TV show, in particular my little cousin Ben. His two favorite cartoons were Pee-wee's Playhouse and GI JOE. When Pee-wee's Playhouse was taken off of the air, all he had left was GI JOE.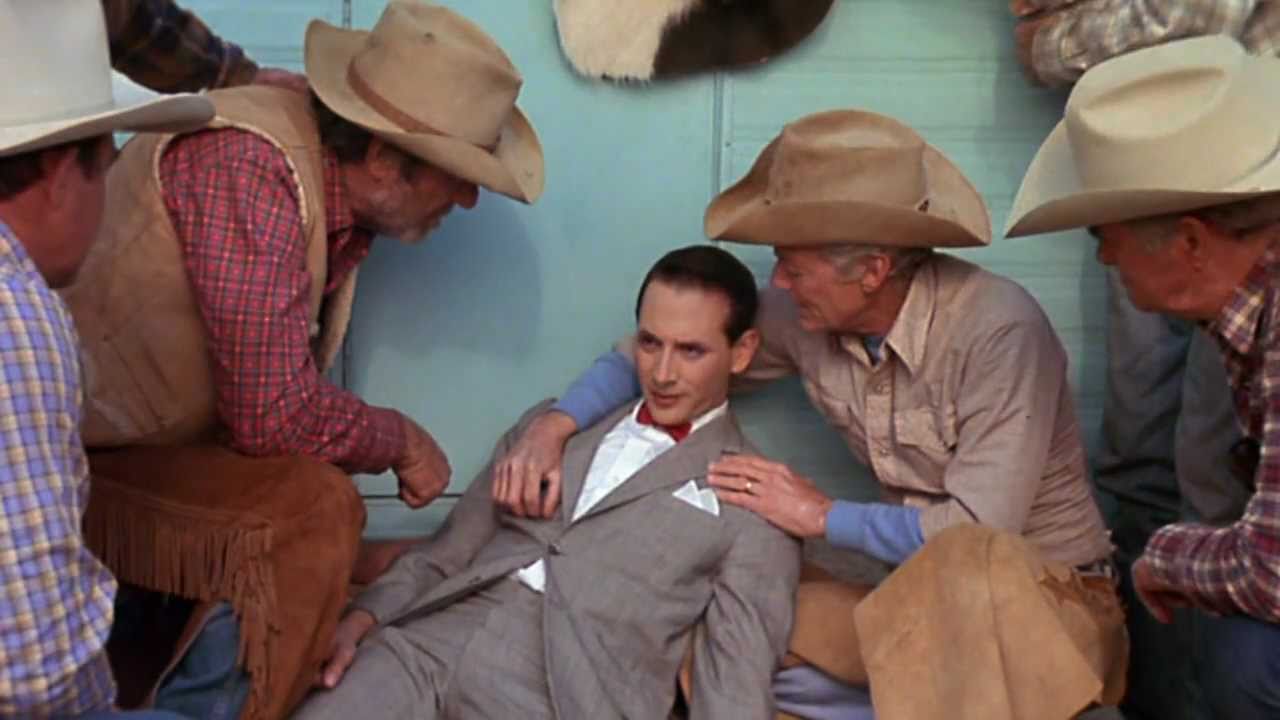 Here are the lyrics:

THE BALLAD OF PEE-WEE HERMAN 

I'm gonna sing about a man we all know, who parents preferred to ignore
A man who got jailed for touching his penis, touching nothing much more
The verdict was lewdness-indecent exposure. The pious all gave their sermons
"He was caught in the act!" Well, the parents attacked, and they crucified poor Pee-wee Herman 

CHORUS
They crucified Pee-wee, they crucified Christ 
They crucified Dylan twiiiiice
Pee-wee was free but now he's nailed to a tree
Sometimes free ain't a very good price
No it ain't, but who's to blame
Now that cartoons aren't the same, children?
Who? Tell me who's to blame?

Pee-wee's name was really Paul and acting was his lot
And with his flair for comedy, his future had a shot
He took a couple lesser jobs but finally found his niche
And in the role of an overgrown kid, Paul Reubens soon was rich 

Now Paul, he cared for children and children loved him back
His show had chairs and globes that talked and people white and black
He opened minds throughout the land and it was sad to see
That moms and dads were scared of Paul because his mind was free
Yes they were, they were scared of Paul, because his mind was free 

CHORUS 

Paul was just like me and you, except for how he looked
And just for being who he was, the police force got him booked
If he was framed we may not learn for most adults don't care
But still I wonder what it was that the cops was doin' there 

Now people do what they gotta do to get them through the day
Some stay home and drink a beer while others go and play
Some go driving in there trucks, while some go huntin' quail
But when Paul Reubens played that day they threw his butt in jail

CHORUS 

Pee-wee's Playhouse was a show they played every Saturday morn
But with its Latin hunks and transvestite queens it quickly gathered scorn
Integration was a goal that scared the status quo
The Smurfs they'd say, at least they ain't gay--we'd better let Paul go 

Now Pee-wee's name's become a joke and something's funny true
But surely all our grins would fade if it happened to me or you
So sorry children of the States, cartoons won't be the same
The freedoms Pee-wee gave are gone and your parents are to blame
That's what I said, I said your parents . . . Your parents are to blame 

Final Chorus:
Well, they crucified Pee-wee, they crucified Christ
They crucified Sinéad three times* 
They'd crucify me if they thought I was free
Sometimes free ain't a very good price
No it ain't, and they'd crucify you, too,
if they only knew 

###

Long live the oddballs. The rebels. The loners.

RIP Paul Reubens who died yesterday. May you cross over that Great Divide in style. 
--
*Songs evolve, ya know. : )